!! All The Details: FACT SHEET (Click HERE!)
Fantastic Water Views --- Remodeled Bathrooms --- First Class Location
Remodeled home, oversized lot, outstanding location, incredible views!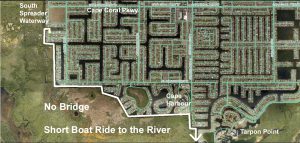 Sailboat Access!
This property is especially for people, who love ....
... a very good and private location, boating, paddling, fishing, walking, cycling, swimming, sun-tanning, expansive water views, summer sunsets, golfing, being close to a marina (boats, café, restaurants, bar) and exploring various beaches.
Additional paddling and bicycling information (see Fact Sheet):
If this could be the right property for you, please contact us directly.
Heimo W. Langenbach, +1 239 770 7337
Real Estate Broker
Sea Breeze International Management Corp.
REAL ESTATE & VACATION
4306 Del Prado Blvd. South, Cape Coral, FL 33904
BUY from us: We find the right property for you! Before you contact anybody else: ASK US!
RENT from us: Seabim-Vacation-Portfolio; most homes purchased with us;
80% occupancy; of approx. 900 bookings per year, 70% are returning guests or referrals
Southwest Florida Real Estate Experts for over 16 Years
Fully licensed (real estate and vacation) and insured; escrow / trust accounting for owners and guests