(für die deutsche Version bitte scrollen)
Reduced.
Now the BEST DEAL on the Eight Lakes! Only $308 per sq.ft. under a/c!
Eight Lakes, built 2014:
3,538 sq. ft. of air-conditioned living area
4 bedrooms, 4.5 bathrooms, 3-car garage
2 large main-suites + 2 guest-suites + 1 pool bath + 1 office
2014 boat dock and lift
2013 new seawall
Oversized lot (85 ft.)
ALL impact resistant doors and windows.


One of THE best locations in the whole City.
New construction in 2014; excellent vacation rental income.
Perfect layout inside and outside:
3-car garage,
4 bed, 4 bath, 2 MASTER SUITES, 1 office, 1 pool bath,
1 sunset balcony:
HIGHLIGHTS:
Fast Gulf access, Lake on BOTH sides of the street (sunrise / sunset), second floor sunset terrace, TWO large MASTER suites, total of 4 bedrooms and 4 bathrooms, 1 office, 1 pool bath, large pool deck and boat dock, newer seawall, all IMPACT windows and doors; fully furnished and equipped with everything! Good vacation rental income.
Location in the very south of Cape Coral (CLICK to enlarge!):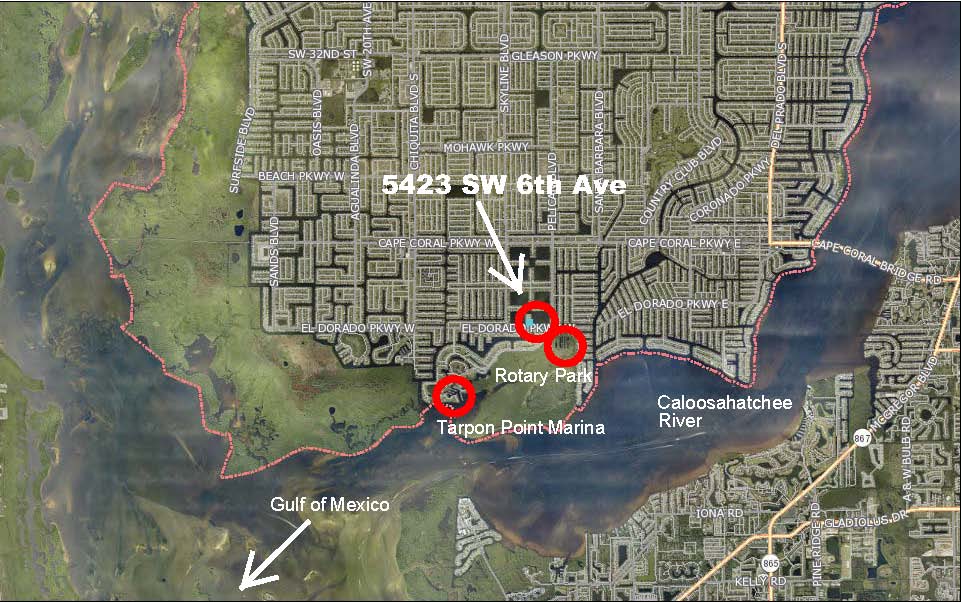 Click here for DETAILS (Fact Sheet)
Fantastic LOCATION: 8-Lakes, Rose Garden, Rotary Park, Tarpon Point Marina
Tarpon Point Marina with bar, restaurants, kayak rentals, yachts.
Do not wait!

============================================================================================

German - deutsche Version:

TOP-DEAL für USD 1,090,000 ——————— 2014 Eight-Lakes — 328 qm, 4 SZ, 4 Bäder West-Dachterrasse

Bester DEAL an den 8-Lakes. Nur $308 pro sq. ft. Wohnfläche.
Das ist der mit Abstand GÜNSTIGSTE Preis für Alter und Lage!
Eight Lakes, erbaut 2014:
4 Schlafzimmer, JEDES mit eigenem Bad; davon sind
2 große HAUPT-SUITEN mit großen Schlafbereichen mit Seeblick,
2 sehr große Bäder mit begehbaren Duschen und Badewanne
1 Poolbad
1 Büro
1 Sonnenuntergangs-Dachterrasse
3-Auto Garage (eine kann privat abgetrennt werden)
Voll möbliert und ausgestattet
328 qm (3.538 sq. ft.) klimatisierte Wohnfläche, vollständig möbliert und ausgestattet.
Alle Fenster, Türen und das Garagentor sind STURMFEST (impact resistant),
keine Shutters benötigt.
Hochwertiges Bootsdock mit Lift aus 2014.
Neue Seawall 2013.
Übergroßes Grundstück mit 85 Füssen am See.

In der ersten Etage gibt es eine geräumige Wohn-Suite mit direktem Zugang zur Dachterrasse nach Westen. Hier der Blick von dieser Dachterrasse am Abend (anklicken zum Vergrößern)

Dort befindet sich ein volles Bad mit begehbarer Dusche, das wahlweise exklusiv von den Bewohnern des Schlafzimmers genutzt werden kann oder von den Besuchern der Dachterrasse. Alle Hausbewohner können diese Sonnenterrasse problemlos zu jeder Tages- oder Nachtzeit nutzen, da das Schlafzimmer nicht passiert wird.

Da die Straße Seegrundstücke auf beiden Seiten hat, bietet die Dachterrasse Seeblick zum Sonnenuntergang. Die Poolterrasse bietet traumhafte Sonnenaufgänge über dem See. Auf Poolterrasse und der Terrasse am Wasser bleibt die Sonne bis zum spätem Nachmittag.
Das BOOTSßDOCK ist mit hochwertigem Composite-Material gedeckt. Der Aluminium Bootslift trägt 10.000 lbs.
Die große GARAGE faßt drei Fahrzeuge. Bei Bedarf kann davon eine Garage durch eine Wand abgetrennt werden, so daß ein großer Privatbereich entsteht, der für Hausgäste nicht zugänglich ist; ein perfekter Platz für ein Auto oder/und Harleys, etc.
Diese besondere Immobilie befindet sich in 1-A Lage:
Eine der besten LAGEN der gesamten Stadt.
Klicken Sie den obigen Link oder auf das Lagefoto.
Südliche Eight Lakes:
Top-Wohngebiet ganz im Süden. Der südliche Teil der Eight Lakes (Lake Brittania) bietet Bootszugang zum Meer durch den Rose Garden, was zum einen schnell und zum anderen sehr schön ist. Eine Schleuse gibt es nicht. Bis zum Fluß sind es ca. 25 Minuten bei "No Wake" Geschwindigkeit.
Das Objekt liegt ruhig in einer Sackgasse. Einige neue Häuser sind in der Straße gerade fertiggestellt worden. Trotz der ruhigen Lage ist das Haus sehr zentral gelegen:
Nur wenige Minuten vom Rotary Park entfernt (fußläufig). Dort gibt es Spazierwege durch die Natur, Vögelbeobachtung, einen Trimmpfad, einen Spielplatz sowie einen eingezäunten Hundepark.
Nur wenige Minuten weiter entfernt liegt der Tarpon Point Yachthafen mit verschiedenen Restaurants/Cafés und Shops. Wer kein eigenes Boot oder Kayaks am Haus hat, kann dort auch viele der beliebtestens Wassersportgeräte ausleihen. Über die schönen Fahrradwege ist der Yachthafen in nur 10 Minuten durch den Rose Garden per Fahrrad erreichbar. Auf dem Weg dorthin kommt man am Rotary "Boardwalk" vorbei, über den man durch die Mangroven bis zum Wasser spazieren kann (10 Min.). Auf dem Pfad gibt es auch einen Aussichtsturm mit einem schönen Blick über die Mangroven und auf Tarpon Point.
Auf Grund der besonderen Lage sowie der Größe, Merkmale und Möglichkeiten dieser Immobilie handelt es sich hier um ein in jeder Hinsicht außergewöhnlich attraktives Angebot.
Hier gibt es eine Fakten-Übersicht auf englisch (Fact Sheet)
Sprechen Sie uns an!
Sea Breeze International Management Corp.
Professional Experts since 2002
Real Estate and Vacation
American Owned And Operated
seabim.com