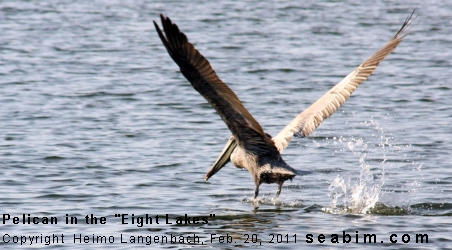 Once in a while a pelican shows up at the "Eight Lakes", like today. On the beach we see them hunting for fish all the time. In the Cape Coral Eight Lakes area however, they seem to go for relaxation. Not much hunting going on, just swimming on the water, going with the tides. The pelican in the picture above is just leaving.
Want to see more? Today our customers on the Lake (in their own home or in a vacation home or on a boat) could also enjoy mullet, anhinga- and an osprey!
We encourage our real estate and vacation customers to share their Florida wildlife impressions with us. Just add a comment to this blog post of the SEABIM News Blog  and attach your photo - or email it to us, so we can upload it.
Selling and renting the Eight Lakes in Cape Coral. Sea Breeze International Management Corp. - Heimo Langenbach - www.seabim.com