[caption id="attachment_2376" align="alignleft" width="300" caption="Front View of Luxury Cape Coral Home for Sale"]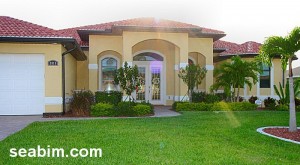 [/caption]
<dl id="attachment_2375" class="wp-caption alignleft" style="width: 310px;"><dt class="wp-caption-dt">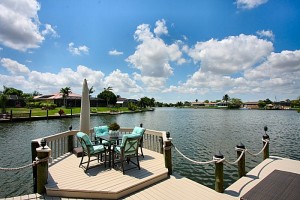 </dt><dd class="wp-caption-dd">View from Dock over Gulf Access Basin</dd></dl>Dieses außergewöhnlich schöne und hochwertige Objekt wird für USD 509.000 angeboten. Schauen Sie sich unbedingt die vielen Fotos
hier
an. Hochwertig und fast neu (2011), mit Bootszugang zum Golf von Mexiko (keine Schleuse, eine Brücke); traumhafter Wasserblick gen Westen auf kleinen See; neu gebauter Bootsanlegesteg mit Lift und verschiedenen Wasserterrassen zum Sitzen oder Sonnenbaden ($40.000); hinzu kommt eine eigene Boots-Garage ("Canopy") über dem Lift; ca. 200 qm klimatisierte Wohnfläche, 3 Schlafzimmer, 2 Bäder, Büroraum, großer Wohnbereich mit offener Küche, Frühstücksbereich und Platz für Bar (Eingangsbereich/Eßzimmer). Im gesamten Haus sind geschmackvolle, große Fliesen verlegt, keinerlei festverlegte Teppiche. Ziegeldach, hohe Decken, hohe Fenster und Glasschiebetüren. Haupt-Schlafzimmer und ein Gästeschlafzimmer mit direktem Zugang zur Poolterrasse. Hochwertige Küche mit entsprechenden Geräten und Granitarbeitsplatte, auch Waschmaschine und Trockner sind enthalten. Bäder mit modernen Objekten und Granit-Waschtischen. Klimaanlage, Alarmanlage, übergroße Garage komplett gefliest (schwarz-weisses Schachbrett-Design für Freunde des klassischen Rennsports). Hochwertige Deckenventilatoren ("Fans") im gesamten Haus und im Bereich der überdachten Terrasse; auch die modernen Deckenlampen gehören zum Haus (nicht jedoch die Vorhänge an Fenstern und Schiebetüren). Riesige Pool-Landschaft mit aufwendiger Pflasterung und Spezial-Poolbeschichtung (Pebble Tec), elektrische Poolheizung, Salz-Zelle (Compu Pool) für haut- und augenfreundliches Pool-Wasser; mehrere Liege- und Sitzflächen mit tollem Wasserblick und Resort-Atmosphäre. Im überdachten und fliegengeschützten  Terrassenbereich ("Lanai") wurde ein Außengrill mit Granitarbeitsplatte fest eingebaut ($4.000). Der wunderschöene Garten mit Palmenbestand ist elektrisch beleuchtet ($15.000). Die Zufahrt zur Garage, die Wege zum Haus und um das Haus herum sind geschmackvoll gepflastert. Die Fenster zur Straße wurden mit Metall-Hurricane-Schutz versehen. Alle anderen Fenster und Glasschiebetüren rund um das Haus sind durch elektrische Rolläden geschützt ($25.000). Die Immobilie liegt ruhig und zentral, nur ca. 10 Minuten vom
Cape Coral Yacht Club
entfernt. Sie ist an das städtische Wasser- und Abwasser-System angeschlossen. Es sind keinerlei Anschlußgebühren mehr offen ("Assessments paid"). 
Dieses außergewöhnlich geschmackvolle Objekt ist auch als Ferienhaus hervorragend geeignet und qualifiziert zur Aufnahme ins Seabim-Vermietportfolio (80% Auslastung, 45% Stamm-Gäste).
Schreiben Sie Ihre Fragen und Anmerkungen unten bei "Post a Comment" bzw. "Write a Comment".
....
Heimo W. Langenbach, Broker
Sea Breeze International Management Corp.
Luxury Real Estate in Captiva, Cape Coral, Ft. Myers, Naples, Sanibel; Florida
Specialized in Out-of-State and international Clients; worldwide Marketing for Second Homes and Vacation Homes
Deutscher Immobilienmakler in Florida
Immobilien auf Captiva, Cape Coral, Fort Myers, Naples, Sanibel
Hochwertige Luxus-Immobilien am Meer, Strand, Kanal oder See; Zugang zum Golf von Mexiko mit dem eigenen Boot
Beurteilung von Lagen und Wertentwicklungs-Potentialen;
auf Wunsch Analyse im Hinblick auf Ferienhaus-Vermietung der Florida-Immobilie; realistische Kosten und Einnahmemöglichkeiten; Voraussetzungen zur Teilnahme am Seabim-Vermiet-Portfolio
Sea Breeze International Management Corp.
1406 SE 46th Ln, Unit 7, Cape Coral, FL 33904
Office phone: USA (+1) 239 541 9684 or Germany (+49) 202 850 6687 0