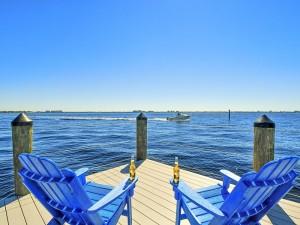 Riverfront Properties in the south of Cape Coral are considered one of the most valuable properties of SW Florida: Quiet, boating paradise, nice and friendly neighborhood, dolphin, manatee and bird watching, fishing, marina, water sports, beach, pier, playground, restaurant and more. We believe that prime locations have the best appreciation potential. Therefore, the River area is one of the three seabim specialty fields in Cape Coral beside 8-Lakes / Rose Garden properties and the Cape Harbour area.
CLICK here for first impressions of the Yachtclub Area of Cape Coral.
>>> Current seabim OFFERS on the River (click on links)
1040 Dolphin Dr - Southern Exposure - 4 beds /4 baths - $1,150,000
>>> River properties previously SOLD by seabim  (click on links)
642 Coral Dr - (Listprice $925,000; under contract)
1036 Dolphin Dr - $695,000 (sold - land value)
5705 Riverside Dr - $875,000 (sold - now in Seabim-Vacation-Portfolio)
554 Coral Dr - $755,000 (sold)
1036 Dolphin Dr - $860,000 (sold - land value - building demolished now)
5625 Riverside - Dr - $946,500 (now remodeled)
5221 Nautilus Dr - $1,100,000 (sold)
S E A B I M -- If you are looking for PRIME LOCATIONS
Sea Breeze International Management Corp.
Real Estate Brokerage and Seabim-Vacation-Portfolio
Seabim-Realtors on Florida's Gulf Coast
Luxury Real Estate, Modern New Construction and Vacation Homes (80% Occupancy, 60% Returning Guest Ratio)
Bonita Beach, Cape Coral, Captiva, Fort Myers, Naples, Sanibel
Immobilien-Makler Cape Coral, Captiva, Fort Myers, Naples, Sanibel Island
Moderner Neubau, hochwertige Immobilien und Ferienhäuser
Quality since 2002