[caption id="attachment_2806" align="alignleft" width="300" caption="Cape Coral Gulf Coast - Storm Isaac"]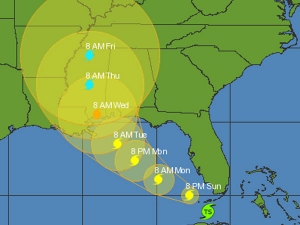 [/caption]
Update Aug 27, 1730: In the end Isaac did not really affect us. Our weather was cloudy, rainy and a little windy. The clouds are already opening up - the sun comes back! - Now we have to take the shutters for many of our vacation houses back down ...
Update Aug 26, 2012, 1508: The projected track moved to the west, so away from us. We stick to our original assessment (see Aug 24 below).
Update Aug 25, 2012, 0942: Isaac seems to strengther sooner than expected and there is a risk it might come closer to our coast. Furniture and similar items should be removed from patio / pool deck areas. Power outages could become more likely. Just in case: Fill up gas tanks, get enough water, etc. For more information on hurricanes and being prepared, see this Lee County information.
Aug 24, 2012
It seems that Isaac might not have a major impact to Cape Coral, Captiva, Naples and all southwest Florida. Current forecast has it some miles west of our Gulf coast line and seemingly not very strong (maybe Tropical Storm Force or Hurricane I). Therefore, at this time, our sellers and buyers should not  be concerned. Our vacation renters in Cape Coral can contact us anytime with their questions, for example how to use the existing storm protection at the Seabim-Vacation-Homes. We expect some wind, clouds, rain and possible power outages. Therefore, we advice all customers to be prepared and use caution. Here is a link to follow the track forcast.
Sea Breeze International Management Corp.
Heimo W. Langenbach, Licensed Real Estate Broker
Luxury Real Estate in Captiva, Cape Coral, Ft. Myers, Naples, Sanibel; Florida
Specialized in Out-of-State and international Clients; worldwide Marketing for Second Homes and Vacation Homes in Cape Coral, Captiva, Naples, Fort Myers
Sea Breeze International Management Corp.
1406 SE 46th Ln, Unit 7, Cape Coral, FL 33904
Office phone: USA (+1) 239 541 9684 or Germany (+49) 202 850 6687 0