(Bitte kurze Info, wenn Sie die DEUTSCHE Übersetzung wünschen!)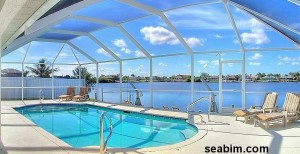 Real Estate Listing in Cape Coral - Property for Sale on Lake Finisterre.
The turnkey price for this Gulf access and lakefront home in Cape Coral is $450,000. This price includes all furniture and equipment (TV sets, linen, dishes, etc.) and possibly even all future bookings that are already lined up (around $20,000).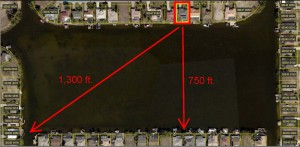 Big Gulf Access LAKE -- Pool to SOUTH
Here are more highlights:
1) L O C A T I O N
- On one of the largest Gulf access LAKES (!) in Cape Coral (Aerial Photo)
- Access to the Gulf of Mexico; just one bridge, NO lock
- Only 20 - 30 min. (2.5 miles) to the River (Map - Boat ride to the River)
- Very quiet neighborhood, bicycle lanes all around (Map of Cape Coral Bicycle Lanes)
- The following destinations are 5 to 10 minutes away:
..> Publix, Walgreens, convenience stores, walk-in clinic, etc.
..> Yachting Communities of CAPE HARBOUR and TARPON POINT MARINA with:
..> Restaurants,Bars, Cafe, Kayak rentals, live-music, Dolphin-tours
..> Camelot Park (Tennis, Playground, BBQ-area)
..> Rotary Park (click): Walk and watch nature, birds, butterfly-house, playground)
..> Golf  course
..> Different food and specialty places (seafood, american, italian, pizza / delivery, irish, etc.)

2) L O T
- 80 ft. on the lake, 125 feet deep, 10,000 sq.ft.
- Middle of  the Lake, not close to corners!
- 700 ft. water view across the Lake (straight view)
- 1,400 ft. diagonal water view (See here)
- Southern rear exposure
- Impressive sunrises and sunsets on the water
- City water and sewer!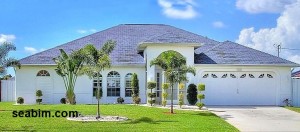 3) B U I L D I N G
- Built in 1995, partially and very tastefully remodeled in 2008
- 1,807 sq.ft. living area (under a/c), tiled throughout!
- Kitchen part of great-room-design, stainless steel appliances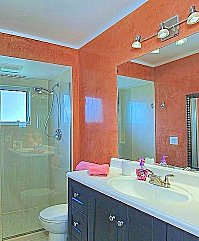 - 3 bedrooms, 2 full bathrooms plus one pool bath
- Attractive, contemporary furniture and equipment
- 2-car garage
- Pool deck and boat dock with sun from morning to night
- Swimming Pool featuring solar heat and salt cell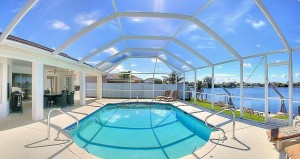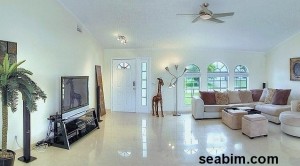 4) VACATION-RENTAL
This waterfront home for sale in Cape Coral participates very successfully in the Seabim-Vacation-Portfolio ("Vacation Home Finista"). The Seabim-Rental-Program's average occupancy rate is a market leading 80%! The vacation villa Finista's occupancy is even a little higher.
If this Cape Coral vacation property remains in the Seabim-Vacation-Portfolio, the purchase price includes all bookings already lined up for 2013 (currently around $20,000)
5) P U R C H A S E
If you are looking for the best and if you are interested in buying this waterfront home on a Gulf access lake  in Cape Coral, please CONTACT us anytime! You can use the "comment" below this post, or use our contact form on www.seabim.com or email us directly.
Looking forward to hear from you!
Sea Breeze International Management Corp.
Luxury Real Estate Realtors of Southwest Florida: Sanibel and Captiva Island, Bonita Beach, Cape Coral, Fort Myers, Naples. Sale of existing Luxury Homes, Vacant Land, new Custom Home Construction / Builder. Buy, sell and build Waterfront Properties on Gulf access Canals, Lakes, River, Beach and Bay (Gulf of Mexico).
Exclusive Seabim-Vacation-Portfolio (international) featuring an average of 80% occupancy rate. 45% of all bookings are returning guests and referrals.
Deutschsprachige Immobilienmakler und Ferienhaus Spezialisten in Cape Coral, Sanibel / Captiva Island, Naples, Fort Myers, Bonita Beach. – In besten Lagen, Immobilien am Wasser und Strand zu verkaufen. Verkauf von Grundstücken, Neubau individueller Gebäude, Qualitäts-Hausbau – Ferienhäuser in Cape Coral am Wasser mit Meerzugang und Dock zum Anlegen von Boot und Sonnenterrasse.
Exklusives Seabim-Ferien-Portfolio mit 80% durchschnittlicher Auslastung. 45% aller Buchungen sind wiederkehrende Gäste und Empfehlungen.
Heimo W. Langenbach, Licensed Real Estate Broker