(Deutsche Übersetzung noch nicht verfügbar. Sie können uns immer auf deutsch schreiben!)
Here is an update of attractive Gulf access real estate offers, some are NEW or REDUCED listings. Prices range between $350,000 and $1,100,000, some include furniture and are ready for vacation rentals.  All of them are Gulf access waterfront properties, located in attractive neighborhoods. Featured beachfront homes starting at $3,800,000.
Click on "Listing Details" (below photos) to see more photos, facts, maps, etc.
1) $345,000 (reduced $5,000): SE-Cape Coral, older home, sailboat access location, western exposure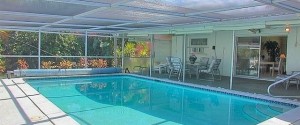 2) $440,000: SW-Cape Coral, bright home, southern exposure, wide water view (now UNDER CONTRACT)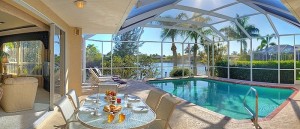 3) $525,000 (NEW): 1999 Home at Spreader Waterway / Nature Preserve

4) $529,000 (reduced $70,000): Big lot, southern exposure, near Cape Harbour (now UNDER CONTRACT)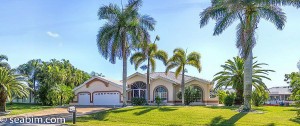 5) $880.000: IN Cape Harbour! Lake front, sailboat access, 10 min. to River

/blog/cape-harbour-home-for-sale-–-gulf-access-lake
6) $980.000 (reduced $120,000, 5/2014): THE best location in Rose Garden! House can be EXTENDED!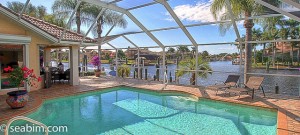 Looking for a luxury 2014 home on the RIVER ($1.75), click here!
Looking for your private BEACH residence ($3.8m - $11m), click here!
Contact us, or contact your Seabim-Realtor (R).
Sea Breeze International Management Corp.,
Real Estate Brokerage and Seabim-Vacation-Portfolio
Realtors on Florida's Gulf Coast
Luxury Real Estate and Vacation Homes (80% Occupancy, 50% Returning Guest Ratio)
Bonita Beach, Cape Coral, Captiva, Fort Myers, Naples, Sanibel
Quality for over 10 Years
– BUY – RENT – BUILD – SELL –
Florida Realtors selling luxury real estate and vacation homes in Bonita Beach, Cape Coral, Captiva, Fort Myers, Naples, and Sanibel. Prime locations on the beach (oceanfront properties, island properties) or on canals and lakes with boating access to the Gulf of Mexico (Gulf-access waterfront properties).
For example, we offer the sale of Sanibel and Captiva Island beach homes and luxury oceanfront estates in Naples, as well as vacant land and new construction (home builder consulting). Upscale and affordable custom homes: Choose between traditional, Mediterranean, or modern design construction on a buildable lot. Modern design includes contemporary Miami style architecture and European design elements; high value-for-money ratio. Seabim service includes planning, consulting and building reports during construction.
After completion (or purchase), we offer participation in the exclusive Seabim-Vacation-Portfolio, the market-leading vacation rental program in the area. Vacation homes of the Seabim-Vacation-Portfolio achieve an average occupancy rate of 80% and a returning guest / referral ratio of over 50%. If not rented, property management only is available.
Not ready to buy or build yet? Be our guest in a Seabim vacation home. Our Cape Coral best vacation homes offer waterfront Gulf access, boat docks and large swimming pools. Renting a high quality Seabim vacation villa (single family home) is a great way to get to know the area. Get the Seabim Newsletter to learn of special offers, last-minute-deals and discounts.
Do not trust promises. Trust our experience!
Heimo W. Langenbach, Broker, Lars Rotthaus, Realtor, Renate Maag Smith, Realtor