[caption id="attachment_3616" align="alignright" width="194"]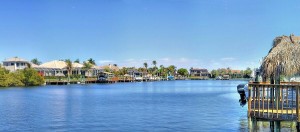 View from Property (East)[/caption]
(click on all photos to enlarge!)
[caption id="" align="alignnone" width="192"]

View from Property (West)[/caption]
Seabim Vacation Property - Great Opportunity!
Just look at all the information in our FACT SHEET! and PHOTOS.
Für Infos auf deutsch, bitte einfach "Comment" (siehe unten) oder Email schreiben.
Here are a few bullet points (click on the highlighted words):
[caption id="attachment_3668" align="alignright" width="151"]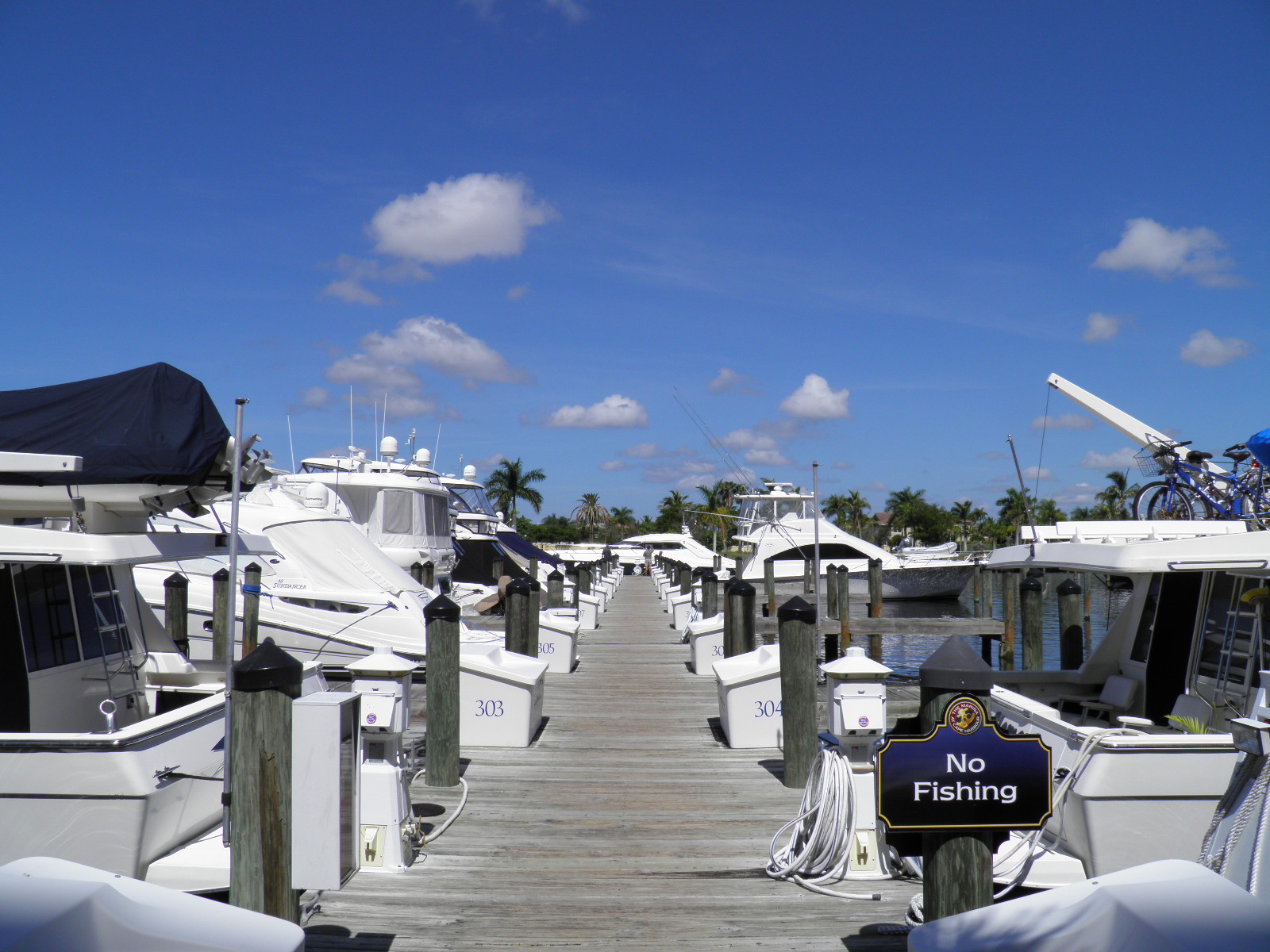 Cape Harbour[/caption]
L O C A T I O N
- Sailboat access to the Gulf of Mexico (no bridges, no overhead cables)
- Wide water view into preserve (see graphic); very quiet neighborhood
- Many months of sunsets over water and Nature Preserve
- Direct bike lane to Cape Harbour(Restaurants and Yachting), no traffic lights (10 bicycle-minutes)
- Bicycle to tennis courts, no traffic lights (15 bicycle-minutes)
- Many bike lanes all around, direct bike lane to Matlacha (Cape Coral bike map)
- One of Cape Coral's new marked bike routes passes in only 1 minute distance (look for marking CCCF)
- Kayak / canoe / PADDLE access through Preserve only minutes away; direct connection to the kayaking trails of the Great Calusa Blueway.
- About half an hour to Fort Myers Beach and Sanibel Beach. A few minutes more to Captiva Beach.
[caption id="" align="alignright" width="90"]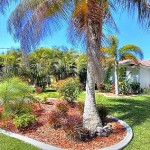 (Click!)[/caption]
P A R C E L / L O T
- Oversized (13,500 sq.ft.), dimensions offer privacy
- 150 ft. deep and 103 ft. on the water (see graphic)
- Large boat dock (90 ft. captain's walk!) with boat lift (see drawing)
- Sitting area with tiki hut on the water.
B U I L D I N G
- Built 1999, air-conditioned living area 1,809 sq.ft.
- Tile Roof
- 3 bedrooms, 2 bathrooms, 2-car-garage
- Living room (billiard), dining room, kitchen and family room
[caption id="attachment_3615" align="alignright" width="126"]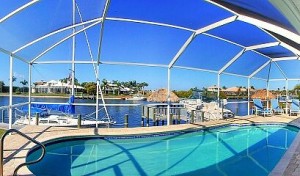 (Click!)[/caption]
- Long pavered driveway, mature landscaping
- Heated pool (heat pump), pavered lanai and pool deck,
all screened in
- Fully furnished and equipped (turnkey)
M O R E
Make sure you see our extensive photo presentation / virtual tour. If your Java does not work, just click on Photo Gallery.
Currently, this property participates in the Seabim-Vacation-Portfolio (Teramaro). Buyers could continue using it as a vacation home.
If you did not see the FACT SHEET with all the details yet, click HERE.
Sea Breeze International Management Corp. / seabim.com
Heimo W. Langenbach, licensed Real Estate Broker, Owner, 239 770 7337
Contact us, or contact your Seabim-Realtor (R).
Sea Breeze International Management Corp.,
Real Estate Brokerage and Seabim-Vacation-Portfolio
Realtors on Florida's Gulf Coast
Luxury Real Estate and Vacation Homes (80% Occupancy, 50% Returning Guest Ratio)
Bonita Beach, Cape Coral, Captiva, Fort Myers, Naples, Sanibel
Quality for over 10 Years
– BUY – RENT – BUILD – SELL –
Florida Realtors selling luxury real estate and vacation homes in Bonita Beach, Cape Coral, Captiva, Fort Myers, Naples, and Sanibel. Prime locations on the beach (oceanfront properties, island properties) or on canals and lakes with boating access to the Gulf of Mexico (Gulf-access waterfront properties).
For example, we offer the sale of Sanibel and Captiva Island beach homes and luxury oceanfront estates in Naples, as well as vacant land and new construction (home builder consulting). Upscale and affordable custom homes: Choose between traditional, Mediterranean, or modern design construction on a buildable lot. Modern design includes contemporary Miami style architecture and European design elements; high value-for-money ratio. Seabim service includes planning, consulting and building reports during construction.
After completion (or purchase), we offer participation in the exclusive Seabim-Vacation-Portfolio, the market-leading vacation rental program in the area. Vacation homes of the Seabim-Vacation-Portfolio achieve an average occupancy rate of 80% and a returning guest / referral ratio of over 50%. If not rented, property management only is available.
Not ready to buy or build yet? Be our guest in a Seabim vacation home. Our Cape Coral best vacation homes offer waterfront Gulf access, boat docks and large swimming pools. Renting a high quality Seabim vacation villa (single family home) is a great way to get to know the area. Get the Seabim Newsletter to learn of special offers, last-minute-deals and discounts.
Do not trust promises. Trust our experience!