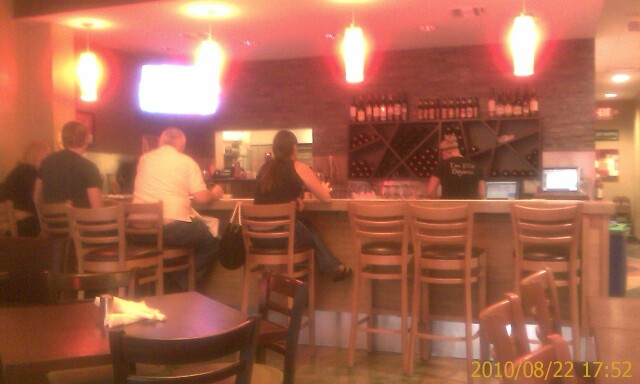 A while ago we heard of a Fort Myers restaurant, that uses mostly organic ingredients. Some dishes (appetizers, salads, pizzas) are even gluten free. Its name is Pizza Fusion, part of a nation wide franchise. We thought, this might be interesting for our international guests and visited it tonight.
The prices are very reasonable (Menu).  The atmosphere is casual / comfortable, including a nice bar area (photo). We enjoyed a zucchini al forno appetizer and pizza and thought it was a very good value for the price.
There is organic beer (I saw one gluten free) and organic wine. Our waitress Tori was very nice and brought us two open wines to taste. We chose a glass of full bodied Zinfandel, which went well with the pizza. Tori also explained very interesting specials for different days of the week (e. g. on Tuesdays a free bottle of house with a large pizza).
Unfortunately the meal was served with very (and I mean very) cheap silverware. I hope Tori can convince the owner to put it where it belongs ...
Very interesting - the well tasting bottled water, was served in bio degradable plastic bottles, produced without oil! (re:newal). I like the idea, maybe we order some online. - We recommend to try the restaurant. Our Cape Coral vacation home guests or owners pass it on their way to the beaches and back.
Fusion Pizza delivers in a 5 mile radius. But although the location is right at Cape Coral bridge, they refuse to serve us on the other side of it.
As always, you are welcome to comment, using the link below. --- Heimo Langenbach, Sea Breeze International Management Corp., seabim.com.