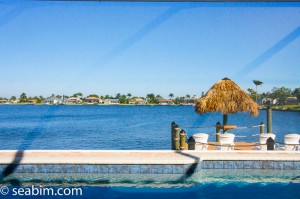 In January 2014 our vacation home Caloosamea was completed. After selling the lot to our customer in March 2013, the house was planned and built with the help of our seabim-team. Look at the first photos here!

We utilized the specific features of this 8-Lakes lot with a large pool area and a boat dock (tiki hut) to the east and an additional sunset deck in the second floor with western exposure. There are many outstanding features that will thrill our vacation guests and will also make sure that this property will hold and increase its value in the future.
NEW CONSTRUCTION: We help you design your house specifically for your lot, your usage plans and to achieve the best long term appreciation. Choose your style: traditional / mediterranean design like the Caloosamea, or transitional design, or contemporary / modern design (upcoming model home).
LAND: Choose the right location and lot size for your purposes.
INCOME: Make the most of your investment! Homes built with us (in good locations) can participate in the Seabim-Vacation-Portfolio (80% occupancy rate, 50% returning guest rate) without enrollment fee.
Of course we also offer existing homes to buy. Look here for a few of the current listings.
Contact us, or contact your Seabim-Realtor (R).
Sea Breeze International Management Corp.,
Real Estate Brokerage and Seabim-Vacation-Portfolio
Realtors on Florida's Gulf Coast
Luxury Real Estate and Vacation Homes (80% Occupancy, 50% Returning Guest Ratio)
Bonita Beach, Cape Coral, Captiva, Fort Myers, Naples, Sanibel
Quality for over 10 Years
– BUY – RENT – BUILD – SELL –
Florida Realtors selling luxury real estate and vacation homes in Bonita Beach, Cape Coral, Captiva, Fort Myers, Naples, and Sanibel. Prime locations on the beach (oceanfront properties, island properties) or on canals and lakes with boating access to the Gulf of Mexico (Gulf-access waterfront properties).
For example, we offer the sale of Sanibel and Captiva Island beach homes and luxury oceanfront estates in Naples, as well as vacant land and new construction (home builder consulting). Upscale and affordable custom homes: Choose between traditional, Mediterranean, or modern design construction on a buildable lot. Modern design includes contemporary Miami style architecture and European design elements; high value-for-money ratio. Seabim service includes planning, consulting and building reports during construction.
After completion (or purchase), we offer participation in the exclusive Seabim-Vacation-Portfolio, the market-leading vacation rental program in the area. Vacation homes of the Seabim-Vacation-Portfolio achieve an average occupancy rate of 80% and a returning guest / referral ratio of over 50%. If not rented, property management only is available.
Not ready to buy or build yet? Be our guest in a Seabim vacation home. Our Cape Coral best vacation homes offer waterfront Gulf access, boat docks and large swimming pools. Renting a high quality Seabim vacation villa (single family home) is a great way to get to know the area. Get the Seabim Newsletter to learn of special offers, last-minute-deals and discounts.
Do not trust promises. Trust our experience!
Heimo W. Langenbach, Real Esate Broker, Owner