[caption id="attachment_1060" align="alignleft" width="387" caption="Cape Coral Real Estate and Vacation Homes on the Eight Lakes. SEABIM Eight Lakes Feature - Wildlife, Luxury Real Estate and Vacation Rentals"]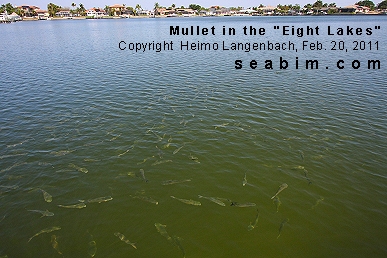 [/caption]
The Eight Lakes in Cape Coral are also home for many kinds of fish.  Today's low tide and the sun's favorable position helped us seeing the fish below the surface.  In the photos on the left and below, mullet fish can be admired. Mullet also jumps out of the water frequently. 
 Zebra fish could be seen as well, but was too deep for photos. - For more photos see below.
[caption id="attachment_1059" align="alignleft" width="387" caption="School of Mullet in the Eight Lakes in Cape Coral / Lake Brittania"]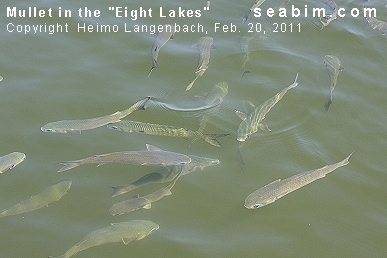 [/caption]
<dl id="attachment_1061" class="wp-caption alignleft" style="width: 397px;"><dt class="wp-caption-dt">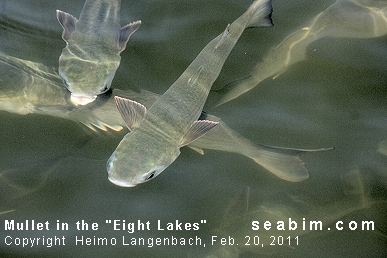 </dt><dd class="wp-caption-dd">Home Owners on the Eight Lakes in Cape Coral can watch Fish with their own Eyes</dd></dl>The Eight Lakes are not only about boating. Living or boating on these lakes is like being in a nature preserve. Beside mullet, watch
pelicans
,
anhingas
,  
ospreys
, bald eagles, dolphins and much more ...
We encourage our real estate and vacation customers to share their Florida wildlife impressions with us. Just add a comment to this blog post of the SEABIM News Blog  and attach your photo – or email it to us, so we can upload it.
.
.
.
.
.
.
.
.
.
.
.
Selling Homes and offering vacation rentals on the Eight Lakes in Cape Coral. Sea Breeze International Management Corp. – Heimo Langenbach – www.seabim.com