[caption id="attachment_2525" align="aligncenter" width="300" caption="Cape Coral Immobilie zu verkaufen - Golfzugang"]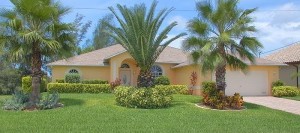 [/caption]
[caption id="attachment_2527" align="aligncenter" width="300" caption="Bootsdock mit Golfzugang - Boat Dock with Gulf access"]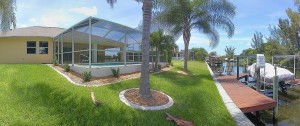 [/caption]
GÜNSTIG: Komplettangebot mit allen Möbeln und Vollausstattung für nur USD 289.000! Immobilie aus 2001 im Südwesten von Cape Coral zu verkaufen.  Einfamilienhaus mit Bootszugang zum Golf von Mexiko zu verkaufen. Das Haus wird aktuell als Zweitwohnsitz / Ferienhaus genutzt und nimmt am Seabim-Vermietprogramm teil. Hier finden Sie die umfassende Fotopräsentation.
 --- LAGE: Ruhiges Wohngebiet, nur etwas nördlich vom Cape Coral Pkwy, keine Durchgangsstraße; Anbindung an viele Fahrradwege. Auch der Yachthafen Cape Harbour mit seinen Cafes und Restaurants kann auf diese Weise bequem per Fahrrad erreicht werden. Mit dem Auto sind es weniger als 10 Minuten; zu Hafen und Shops von Tarpon Point nur wenige Minuten mehr.
 --- SONNE: Der elektrisch beheizte Pool mit überdachter Terrasse ist nach Westen ausgerichtet. Der Pool liegt fast den gesamten Tag in der Sonne, abends lassen sich die herrlichen Sonnenuntergänge Floridas genießen.
--- BOOTS-STEG: Diese Cape Coral Immobilie liegt direkt am Wasser. Zum Haus gehört ein privater Bootsanleger, der aus einer Holzterrasse besteht und einem Bootslift (7.500 lbs Tragfähigkeit). Dort können gemietete Boote geparkt werden oder auch das eigene Schiff. Die Holzterrasse am Wasser wird zum Sitzen, Angeln und Sonnenbaden genutzt.
--- GARTEN: Die Bepflanzung besteht aus mehreren wertvollen Palmen, einigen Büschen und einer gepflegten Wiese.
--- HAUS: 161 qm vollständig geflieste, klimatisierte Wohnfläche (ganz neue, hochwertige Klimaanlage im Juli 2012) mit 3 Schlafzimmern und zwei Bädern. Zum Hauptschlafzimmer gehört ein begehbarer Kleiderschrank sowie ein Bad mit einem Waschbecken, Toilette und Dusche. Die beiden weiteren Schlafzimmer auf der anderen Seite des Hauses teilen sich ein Bad mit Duschwanne. Das Zentrum des Hauses bildet der "Great Room", in dessen Mitte sich das Wohnzimmer befindet. Daran schließt sich auf der einen Seite der "Formal Dining" Bereich an und auf der anderen Seite die geräumige Küche mit hochwertiger Granit-Arbeitsplatte und eigenem Frühstückstisch. Einen separaten Raum gibt es für Waschmaschine und Trockner, inclusive integriertem Wandschrank.
 --- AUSSEN am Haus: Zur geräumigen Doppelgarage führt eine geschmackvoll gepflasterte Zufahrt. Die mit Fliegennetz umgebene Poolterrasse besteht aus einem überdachten Bereich und dem elektrisch beheizten Pool. --- Dieses Objekt bietet ein sehr attraktives Preisleistungs-Verhältnis. Hier ist das offizielle, englischsprachige Verkaufs-Exposee.
Für weitere Details sprechen Sie gern einen deutschsprachigen Seabim-Spezialisten für Florida-Immobilien an. Schreiben Sie einen "Comment" zu diesem Beitrag, eine Email oder benutzen Sie das Seabim-Kontaktformular.
Heimo W. Langenbach, Licensed Real Estate Broker
Sea Breeze International Management Corp.
Immobilien- und Ferienhäuser in Cape Coral, Naples, Captiva Island und Umgebung
Luxury Real Estate in Captiva Island, Cape Coral, Ft. Myers, Naples, Sanibel Island; Florida
Specialized in Out-of-State and international Clients; worldwide Marketing for Second Homes and Vacation Homes
Deutscher Immobilienmakler in Florida
Immobilien auf Captiva Island, Cape Coral, Fort Myers, Naples, Sanibel Island
Hochwertige Grundstücke und Luxus-Häuser am Meer, Strand, Kanal oder See; Zugang zum Golf von Mexiko mit dem eigenen Boot
Beurteilung von Lagen und Wertentwicklungs-Potentialen;deutschsprachige Beratung;
auf Wunsch Analyse im Hinblick auf Ferienhaus-Vermietung der Florida-Objekte; realistische Kosten und Einnahmemöglichkeiten; Voraussetzungen zur Teilnahme am Seabim-Vermiet-Portfolio; Florida / Cape Coral Ferienhäuser
Sea Breeze International Management Corp.
1406 SE 46th Ln, Unit 7, Cape Coral, FL 33904
Office phone: USA (+1) 239 541 9684 or Germany (+49) 202 850 6687 0