[caption id="attachment_2864" align="alignleft" width="482" caption="Pool Home on Water - Boat Dock - close to Cape Harbour - Gulf Access"]

[/caption]
[caption id="attachment_2868" align="alignleft" width="482" caption="."]

[/caption]
SONDERANGEBOT: (jetzt UNTER VERTRAG)
Von Bank genehmigter Immobilien-Verkauf ("Short-Sale") für USD 389.000! Zur Zeit als Ferienhaus genutzt, Management und Vermietung im Seabim-Portfolio (Villa Julep), außergewöhnlich gutes Preis-Leistungsverhältnis!
Die Highlights dieses Immobilien-Verkaufs-Angebots:
Lage
- Südlich von Cape Coral Parkway!
- Nahe Cape Harbour Yachthafen, Restaurants, Shops (zu Fuß)
- Nahe Einkaufsmöglichkeiten (zu Fuß)
- Ruhiges und begehrtes Wohngebiet, keine Durchgangsstraße
- Direkt am Camelot Park (Spielplatz, Tennis)
- Sehr beliebt, auch bei Urlaubern
Aktivitäten
- Spazieren gehen im Wohngebiet und im Bereich Cape Harbour
- Joggen
- Fahrrad fahren über die umliegenden Radwege
- Wassersport vom Haus aus: Boot, Jet Ski, Kajak, Kanu
- Angeln vom Haus aus
- Tennis spielen, Ausgehen
Grundstück
- 1.000 qm großes Grundstück direkt am Wasser (10% größer als normal)
- 105 Füsse (32 Meter) am Wasser (normal sind 80 Füsse / 24 Meter)
- Bootszugang zum Meer (Golf von Mexiko)
- Weiter Wasserblick über breiten Kanal und Kanalkreuzung
- Privater Bootsanleger mit Bootslift
- Bootsdock als Sonnenterrasse am Wasser nutzbar
- Südlage für Sonne von morgens bis abends
- Gartendesign im Wert von vielen tausend USD
- Anschluß an städtische Wasserversorung (alle Anrainergebühren "Assessments" bezahlt!)
Haus
- Baujahr 1998, Ziegeldach
- Viele Fenster und Glasschiebetüren zur Poolterrasse
- Neue Pool-Landschaft 2008, geschmackvoll gepflastert
- Pool Cage mit Fliegennetz aus 2005
- Swimming Pool elektrisch und solar beheizt, Südausrichtung
- Klimatisierte Wohnfläche 2.088 (= 194 qm)
- Gesamtfläche inkl. Doppelgarage und Poolterrasse 3.977 sq.ft. = 369 qm
- Küche mit Frühstücksecke, Wohnzimmer, Eßzimmer
- 3 Schlafzimmer, 2 Bäder, 1 Gästetoilette
- Heller Zusatzraum (Media-Raum, Büro)
- Neue Klimaanlage 2010
- Hurricane Shutters (Akkordeon) für das gesamte Haus in 2007 (ca. $18.000)
- Bootsdock 1997 (Holz)
- Bootslift 2005 (10.000 Pfund = 4,5 Tonnen)
Unsere Vorschläge, um das große Potential der Immobilie ganz zu nutzen:
- Neue Bodenbeläge
- Modernisierung Küche (Granitarbeitsplatte, neue Geräte)
- Entfernung Tapeten Bäder, diverse Verbesserungen
Klicken Sie auf JULEP-FOTOS für die umfassende Foto-Präsentation. Hier geht es zur LAGE-ÜBERSICHT.
Vermietung:
Aufnahme ins Seabim-Portfolio möglich. Bei entsprechend hochwertiger und geschmackvoller Möblierung und Ausstattung AUSGEZEICHNETE VERMIETBARKEIT.
Ergebnis:
Für USD 389.000 plus Verbesserungen gibt es ein sehr attraktives und gepflegtes Haus in hervorragender Lage. Eine unschlagbare Kombination, wie sie u. E. am Markt sonst nicht mehr zu finden ist!
INTERESSENTEN:
Bitte nehmen Sie schnellstmöglich Kontakt zu uns auf (per Comment unten, per Kontaktformular oder per Email).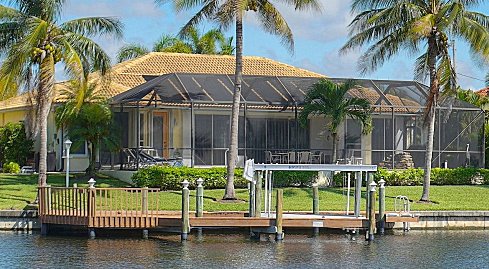 Sea Breeze International Management Corp.
Real Estate Broker / Brokerage
Luxury Real Estate in Captiva Island, Cape Coral, Ft. Myers, Naples, Sanibel Island; Florida
Specialized in Out-of-State and international Clients; Worldwide Marketing for Second Homes and Vacation Homes - Vacation Rentals
Sale of Vacant Land (Lots), Existing Homes, New Construction (Model Homes and Custom Homes)
Deutscher Immobilienmakler in Florida (Broker)
Immobilien auf Captiva Island, Cape Coral, Fort Myers, Naples, Sanibel Island
Hochwertige Grundstücke und Luxus-Häuser am Meer, Strand, Kanal oder See; Zugang zum Golf von Mexiko mit dem eigenen Boot;
Beurteilung von Lagen und Wertentwicklungs-Potentialen durch unsere Makler; Neubau in guter Qualität und Bauberatung, Verkauf von Musterhäusern und individuelle Designs; deutschsprachige Beratung;
auf Wunsch Analyse im Hinblick auf Ferienhaus-Vermietung der Florida-Objekte; realistische Kosten und Einnahmemöglichkeiten; Voraussetzungen zur Teilnahme am Seabim-Vermiet-Portfolio; Florida / Cape Coral Ferienhäuser
Sea Breeze International Management Corp.
1406 SE 46th Ln, Unit 7, Cape Coral, FL 33904
Office phone: USA (+1) 239 541 9684 or Germany (+49) 202 850 6687 0