Click here for LISTING information.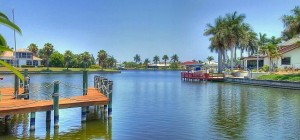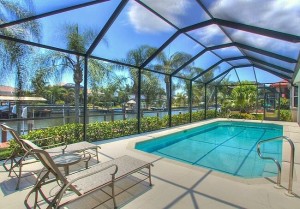 (Now SOLD)
Wonderful Gulf-access home in lovely, quiet neighborhood; cul-de-sac. Heated swimming pool; large pool deck; currently part of the Seabim-Vacation-Portfolio;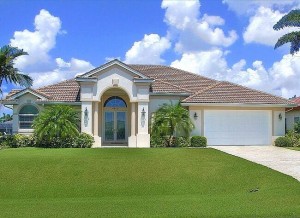 only a few minutes to Cape Harbour by car or bicycle; not much longer by boat.
Built in 1999, air-conditioned living area of 2135 sq ft - 3 Bedrooms - 2 Bathrooms – Office / Den - Living room – large Kitchen with wood cabinets – Sliding doors open up to the Lanai with a big Pool (13 x 30 ft) overlooking the Canal and the Basin. Lush landscaping around the house. A captain's walk across the entire width of the lot - 12,000 lbs. boat lift – Dock suitable for a 30 ft. boat. City Water and Sewer in; assessments paid off in full!
Quiet Cape Coral SW location (cul-de-sac!), about 5 minutes to Cape HarbourYachting Community including restaurants, shops and bars. Many bicycle lanes in the area, direct bicycle lane to Cape Harbour without traffic lights (15 minutes), same distance to tennis courts of Camelot Park. Direct bike lane to Matlacha (Cape Coral bike map). One of Cape Coral's newly established bike routes is only one minute away.
Golfzugang, Bootsdock, Swimming-Pool. In einer ruhigen und freundlichen Nachbarschaft gelegen (Sackgasse). Nicht weit mit dem Boot zur Schleuse, zum Yachthafen Cape Harbour und zum Meer (Golf von Mexiko). Spazieren Sie oder fahren Sie Fahrrad zum Rumrunners-Restaurant in Cape Harbour. Erbaut in 1999 , Wohnfläche ca. 200 qm, 3 Schlafräume, 2 Badezimmer, Büro, Wohnzimmer – große Küche mit Holzschränken. Die Glas-Schiebetüren öffnen sich zur geräumigen überdachten Terrasse mit einem großem Pool (ca. 4 x 9 m). Die Terrasse bietet einen phantastischen Wasserblick. Gepflegter Garten rund um das Haus. Bootsanleger mit Wasserterrasse und ca. 5400 kg Bootslift, passend für ein bis zu 30 ft. langes Boot. - Stadtwasser und -abwasser sind vorhanden und alle Anschluß- bzw. Anrainergebühren komplett bezahlt.
Die Nähe zum Naturschutzgebiet östlich des South-Spreader-Waterway, erlaubt aber auch tolle Kajak oder Paddel-Ausflüge durch die kilometerlangen Kanäle der Stadt, durch das Naturschutzgebiet und sogar bis ins Mehr (durch Mangroven). Für Wasser-, Freiluft- und Sportliebhaber bieten sich beste Gelegenheiten, z. B. auch über den Great Calusa Blueway (bitte anklicken).
In der Nähe liegen auch die öffentlichen Tennisplätze vom Camelot Park (Foto hier). Eine der neuen Fahrrad-Strecken führt nur wenige hundert Meter vom Haus entfernt vorbei (Cape Coral bike map).
Renate Maag Smith, Realtor
Telephone +1 239 443 6500
Sea Breeze International Management Corp.
Real Estate Brokerage and Seabim-Vacation-Portfolio
Realtors on Florida's Gulf Coast
Luxury Real Estate and Vacation Homes (80% Occupancy, 50% Returning Guest Ratio)
Bonita Beach, Cape Coral, Captiva, Fort Myers, Naples, Sanibel
Quality since 2002